The Scandinavian haplogroup Q-L804 has been expanded with a branch from Norway to the North Western France, close to Normandy. This happend when the BigY results for a kit with French origin came in last week. The results make it possible to believe that the new French kit has a Norman origin.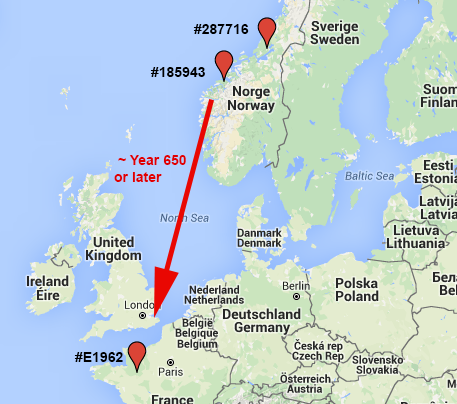 The Norwegian kits which are close to the French have their oldest known ancestors in Møre og Romsdal and Nord-Trøndelag in the 18th – 19th century while the French has it's origin in Mayenne, Pays de la Loire, in the 17th century.
The current Yfull TMRCA indicates that they have a common ancestor about 1600 years before present which means that the migration should have occured in the centuries after the 5th century, with very wide margins. The Normands occupied what's now Normandy in the beginning of the 10th century. The new French result is not yet included in the Yfull time estimate.